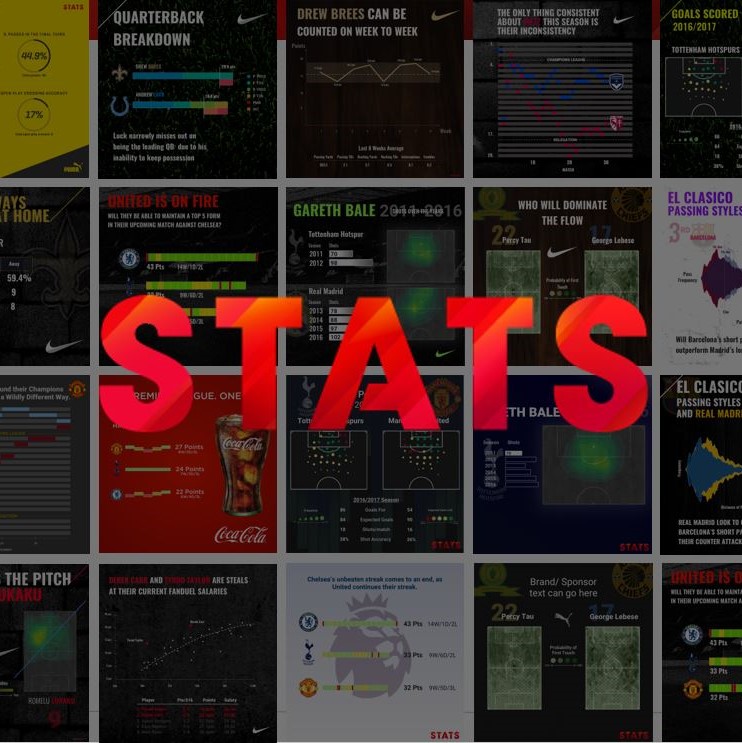 Project Overview
STATS is one of the world's leading sports data and technology companies. STATS  provides sports data, technology, and content to meet the evolving needs of the Media, Broadcast, Leagues & Teams, Fantasy providers, and players, as well as major B2B and B2C brands.
Over the course of a summer internship I built out an alpha version of a product STATS hopes to launch in the next year – STATS Infographics.
STATS Infographics takes STATS' rich data, visualizes it in a way that engages casual sports fans, and frames into a white label solution that brands can use to engage their users. The differentiator of STATS Infographics is its ability to create generate a feed of infographics in an automated way.
---
Process
Our team of interns was tasked with building a data visualization platform that allowed STATS to better leverage their rich data into products for media clients in an automated way.
This initially entailed secondary research of how others in the sports analytics industry were leveraging data visualizations.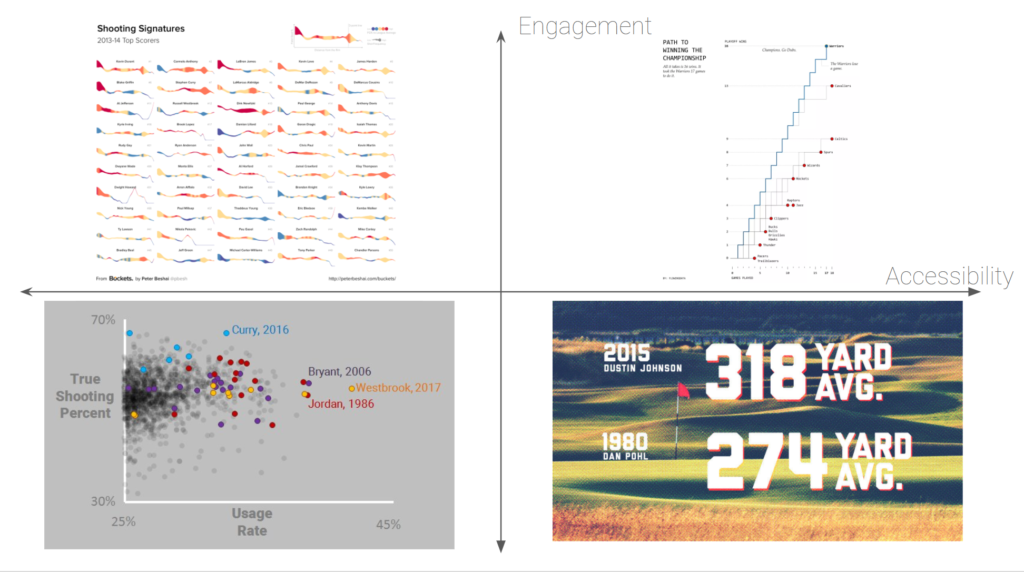 Through that research, we found visualizations fell on a spectrum of accessibility to casual fans and the potential length of engagement. We found that STATS's next-gen data fell had the potential for engagement but was often glossed over by the casual fans. To understand how to make next-gen data accessible we spoke to our users and found that accessible infographics typically had three key components.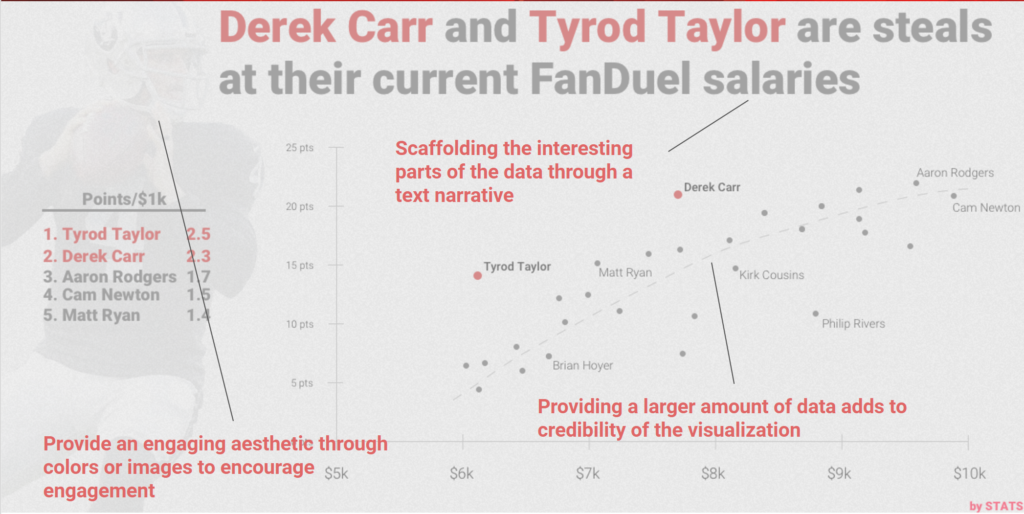 At this point, I developed a platform via Python that took basic user input and queried the appropriate data, created a visualization, and wrapped into an appropriate aesthetic. However, I was unable to generate an automated way to turn data into an interesting narrative headline that would tie the entire visualization together.
I went back to user testing to understand the conversational structural of sports water cooler talk. By understanding the conversational UI of sports narratives, I was able to break them down into their component forms that allowed me to leverage a NLP tool and attach the final piece to the infographic platform.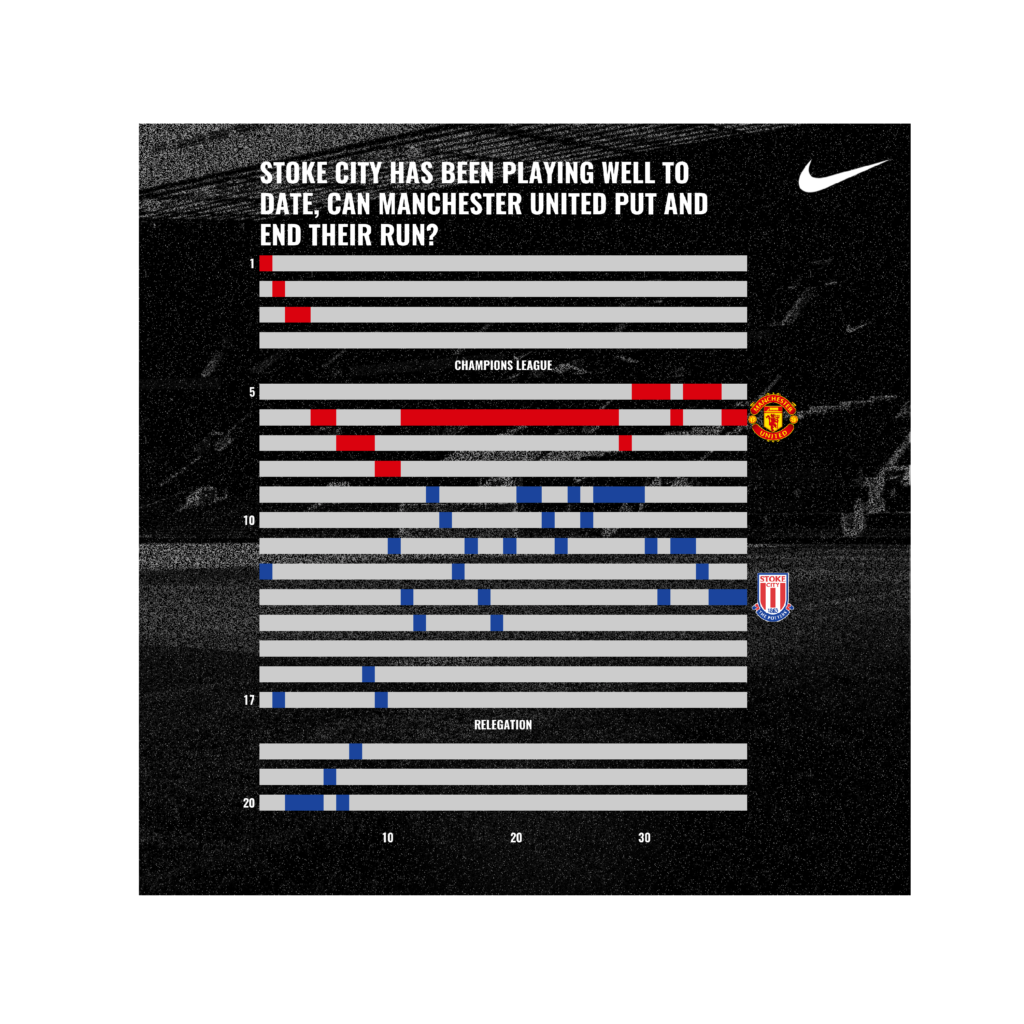 Tools Used

---
Solution
An internal employee (the user) would get a request form a client for a set of infographics – for example Nike may want a set of infographics for week 25 of the English Premier League season.
The user would then open the alpha tool and be met with the following prompts:
Which league would you like to see: English Premier League
Which matchweek: 25
Which Brand: Nike
This will produce the following 'feed' of infographics.
The infographic is made up of 3 main component parts:
The Visualization: The visualization is generated via Python's matplotlib. The data for the visualization is queried live based on the user input.
Headline Text: The Python script finds trends in the data and calls Wordsmith AI to write a headline that fits the data.
Aesthetic Layout: Based on the brand the user selects, the aesthetic components (font, color, branding) are customized to fit the brand selected.
The feed will consist of 60+ infographics in a .zip file that can be pushed to the client. A subset of the feed is below.