How can we
design an interaction

to prepare patients for

Post Operative Cognitive Dysfunction

?
---
Project Focus
User Research  • Interaction Design • Service Design
Project Overview
This past Fall I participated in IDI's (Integrated Design Innovation) 24-hour design challenge. IDI is a collective of design students from Northwestern, MIT, Carnegie Mellon, and UPenn. Over 24 hours I, and a group of 4 other students, were tasked with designing a solution to prepare post-surgery patients to the threat of Post Operative Cognitive  Dysfunction (POCD). Based on the research our team proposed Doc Dougie, a chatbot that provides caregivers the necessary tools to recognize POCD. 
Skills Used
The main focus of the competition was design research and interaction design. The interaction design went through two quick iterations from a paper-prototype to the looks-like prototype showcased in this video. The design research entailed user interviews, environment walkthroughs and secondary research.
---
Process
Though the competition was short (24 hours), teams went through all the steps of the design process.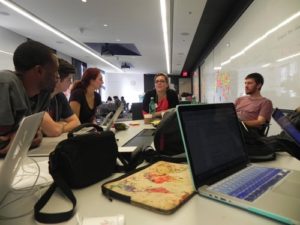 Initially our team scoured secondary resources to really understand POCD. Once we developed a better background in regards POCD, we interviewed patients, caregivers and medical professionals to get a deeper, contextual understanding of the problems POCD patients face. Having gained a better understanding of those issues, we did literal walk through of the out-patient process to understand the different user touchpoints.
Synthesizing our research we developed a basic paper prototype (below) to illustrate the type of interaction we wanted to user to have.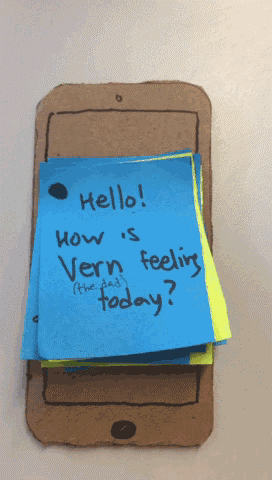 Finally, we fleshed out that prototype via the below chatbot, as illustrated by the video below.
---
Overall, Doc Dougie provides an interface that gives caregivers the
instant, personal feedback and assurance

they need when taking care of their loved ones